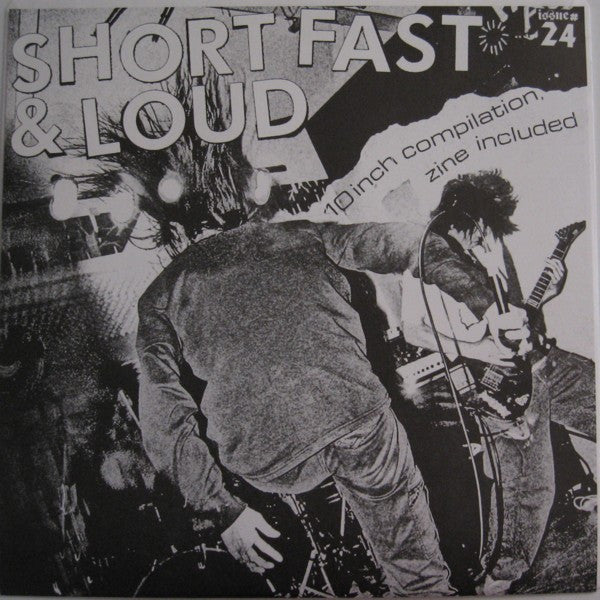 Various Artists - Short Fast & Loud - Used 2011 VG+/VG+
Comes with issue #24 of Short, Fast & Loud! zine. Mastered at Mammoth Sound.
Tracklist:
A1 Voetsek– Stigmata
A2 Coke Bust– Time Theft
A3 Larm– Hippies
A4 Seein Red– Riot
A5 Gride– Poslední Minuta - Kolaps
A6 Conquest For Death– Short, Fat & Loud
A7 Catheter– Death Merchant
A8 Superbad– Counter-Offer
Bass Guitar, Backing Vocals – Mike Freeman
A9 Noisear– Fragile Existence 2
A10 Total Fucking Destruction– Tony Hung Himself
A11 Extortion – Decompose
B1 Brutal Truth– What You Want
B2 Lack Of Interest– On The Edge Of Clarity
B3 Enemies Of Inertia– Deal Gone Bad
B4 Lahar – Greece
B5 Torture Unit– Blinders
B6 Pretty Little Flower– Obliteration Horizon
B7 Slight Slappers– Stupid Is As Stupid Does
B8 Brody's Militia– Drone Mob II
B9 Flagitious Idiosyncrasy In The Dilapidation– Wallow
B10 Wasteoid– Ballad Of A Real Son Of A Bitch
B11 Wasteoid– Multiple Personalities (Power Violence Edition)
B12 Wasteoid– Short But Sweet
Written-By – M.O.D.*
B13 Street Pizza– Fuck You, Pay Me!