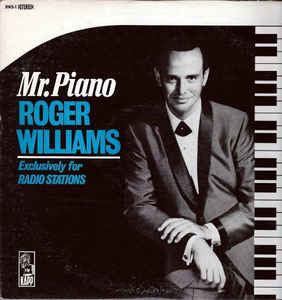 Roger Williams = Mr. Piano - Used 1962 (Australian Import) VG/VG
Roger Williams is one of the most popular pop instrumentalists. He blurred the boundaries between pop, jazz, and classical, creating a smooth, relaxing experience. This is a used Australian import in VG/VG condition.
Tracklist:
A1 Brahms' Hungarian Dance No. 5
A2 Misty
A3 The Sweetest Sounds
A4 Al-Di-La
A5 The Lorelei
A6 Niagara Theme
B1 Stranger On The Shore
B2 Theme From "Dr. Kildare" (Three Stars Will Shine Tonight)
B3 Lollipops And Roses
B4 Theme From Intermezzo
B5 Theme From Ben Casey
B6 Hatari!